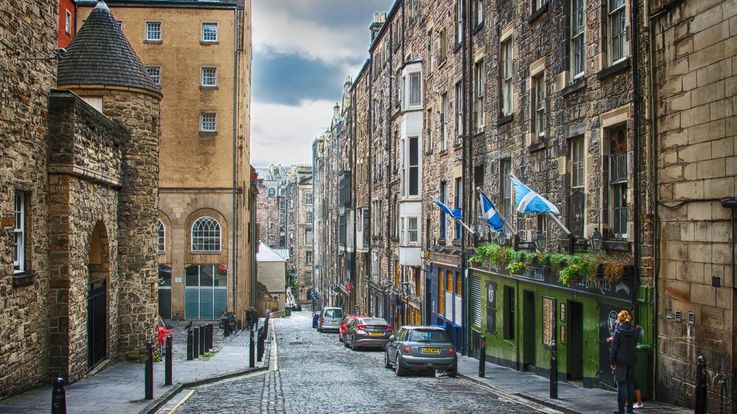 Luggage Storage Edinburgh
Find your luggage storage
Luggage storage in Edinburgh With Radical Storage
Your train has just arrived, and now you can officially declare your trip to Edinburgh, Scotland, has started! However, the city is too big and too frenzy, full of activities to take part in, to just sit around and guard your luggage while you are waiting for the check-in in your preferred accommodation. In this case, you can take advantage of some of our Radical Storage luggage storage in Edinburgh.
Radical Storage is a trustworthy and convenient luggage storage service that offers you many different options to store your suitcases and belongings in all the most renowned cities and locations, just like Edinburgh. We create strong and secure collaborations with many local businesses all over the main parts of the city. You can easily find our Angels, as we call our Radical partners, by clicking on our website or app, and in a few moments, you can find the closest option for you.
You won't have to fear any additional booking charges for your suitcases since we have a €5 fixed rate, no matter the weight or size of your bags. For a small fee, you can also receive a security guarantee of up to almost €3000. If you encounter any issues during the process or you might have any doubts, our 24/7 customer service will always be available to satisfy your needs. Now you can start your vacation in Edinburgh, Scotland, UK, in total relaxation.
Where to store luggage in Edinburgh?
Now that you have finally arrived in Edinburgh and you are more than ready to dive into the thousands of activities and attractions to visit in the small streets and corners of the city center. You certainly cannot afford to walk around the main area of Edinburgh while bumping into some passersby with your bulky suitcases or get tired because of your large backpacks on your shoulders.
However, there is no problem that you cannot fix, thanks to Radical Storage and the Radical partners, that you can easily find anywhere nearby the main attractions of the city or the most famous districts, so you can leave your luggage and finally get to know Edinburgh better. In particular, you can find many of our Angels in:
How to get from Edinburgh Airport to the city center?
Edinburgh Airport is the busiest airport in Scotland, serving over 14 million passengers annually. It is located about 8 miles west of the city center and is easily accessible by various transportation options.
The most popular way to get to and from the airport is by taking the Airlink bus service. The bus runs every 10 minutes and takes about 30 minutes to reach the city center. Alternatively, the tram service provides a direct connection between the airport and the city center. The journey takes approximately 35 minutes. Taxis, car rentals, and airport shuttle services are also available for those who prefer private transportation.
If you must wait for a long time at Edinburgh Airport in Scotland, but at the same time you don't want to stay still and guard many different backpacks and suitcases to keep them safe, you can have a convenient option by booking one of the Radical Storage luggage storage near the Edinburgh Airport, provided by our trustworthy Radical partners, so you can be free from any worry and start your journey with the right foot.
Book a Radical Storage luggage storage option in Edinburgh
No matter if you are coming to the city by taking a nice train from the South or you are just landing from your plane internationally, once you arrive in the magical and exquisite city of Edinburgh, you will never want to leave this city again. However, before taking off for your guided tour of the city center, you should look up for a luggage storage in Edinburgh, so that you can thoroughly enjoy the trip without any hassle.
Finally, you can take advantage of the service of luggage storage in Edinburgh by Radical Storage, with its many luggage storage options scattered throughout the entire city, so that you should never have to worry about the safety of your suitcases, while staying here on holiday. You just need to upload our website or even download our app and in a moment, you will already be booked.
On the website, you will be able to check out our interactive maps, where you can search for your location and in a moment, you'll be able to look out our list of Angels, as we like to call our partners. Our trustworthy collaborators are chosen between local business ventures, such as restaurants, shops and other buildings, in order to provide you with the safest and most convenient option.
Edinburgh Airport | Some useful information
Edinburgh Airport is one of the busiest and most important airports in Scotland, but also the sixth busiest in the UK, since it has more than over 15 million passengers every year. It is in the Ingliston area, just 8 miles west of Edinburgh city center, and it serves as the primary gateway to the capital city and its surrounding regions.
The airport has only a terminal building, but it has been built recently through major expansion and renovation, in the last few years, so that it can accommodate more and more passengers. It houses also very modern facilities and amenities, such as a great array of shops, restaurants, and cafes.If you might need to do some shopping last-minute or maybe need to take a bite before landing, you can find the right option here. There are also countless exclusive lounges inside the airport, so that you can always enjoy a nice moment of relaxation, before taking off.
Edinburgh Airport is also considered a hub for several major airlines, since it offers direct flights to numerous domestic and international destinations. From London to Amsterdam, Paris to Dubai, and beyond, there is a wide range of destinations accessible from this airport. It is also very well-connected to every part of the country itself, so that all tourists and local people can reach it and enjoy the entire country without any hassle.
In terms of connections to the city itself, the airport is well connected to the center through various means, including buses, trams, and taxis. There is also ample parking space available for those who prefer driving. Additionally, the airport is easily accessible from the M8 motorway, making it convenient for passengers arriving or departing by car.
Waverley Station in Edinburgh with Radical Storage
Waverley Central Station is the major transportation hub of the entire capital, connecting nationally and internationally many different cities and locations to the wonderful city. This building is crowded every time of the year with countless local people and tourists all around the city. It has been built in 1846 and it takes its name from the famous author that has been born in the city of Edinburgh, sir Walter Scott.
The station has been well-furnished with not only more than 18 platforms, but also a great choice of amenities and services that can be used 24/7 by the local population, making it a perfect stop for waiting around your train. In fact, you can find many different shops and restaurants inside, which will allow you to have a nice relaxing time, while waiting for your train to arrive here. The station's impressive Victorian architecture is a sight to behold, with its grand entrance hall and glass roof providing a unique sense of space and light.
Edinburgh Castle
Now that you have finally arrived in the magical city of Edinburgh, there is definitely a great list of landmarks that you should need to visit, but the most important one should be the Edinburgh Castle, the main symbol of the city. With its imposing but, at the same time, majestic architecture, the Castle is a fortress that stands tall across the mountains, providing all the visitors with a stunning view of the entire city.
The Castle is also a few meters away from the other landmarks of the city, such as the important Royal Mile or even the Haymarket, so if you ever decide to dwell into the Old town of Edinburgh and travel back in time, this might be the perfect opportunity. The castle offers a nice museum to visit, as well as a charming gift shop, so that you can enjoy your experience here from all points of view.
Royal Mile
Are you excited to finally dive into the magical and picturesque streets of Scotland's major city hub, Edinburgh? If the answer is yes, then you should definitely pay a visit to one of the busiest and most charming streets in the city center, the Royal Mile, inside the exquisite Old Town of Edinburgh. The street goes from the Edinburgh Castle to the Holyrood Palace and is full of amazing local businesses, such as restaurants, shops and museums to visit, so that you can always enjoy your time here.
The Royal Mile, being in the heart of the city center, is also very close to all the other landmarks of Edinburgh, which makes it convenient for you to explore the entirety of the city in just a few miles. You will feel liek you will travel back in time in the 7th century, thanks to the great architecture that you will see, while walking its cobblestone streets and you will never want to leave again.
Haymarket
Another great way to explore the city and get in touch with its incredible environment is certainly pay a visit to the buzzing Haymarket district. It is a popular destination for tourstis from all over the world thanks to its great array of restaurants, bars and shops, in order to provide the best experience for all visitors here. However, there are also many different landmarks in this district, which makes it a perfect opportunity to pay homage to the wonderful city center of Edinburgh.
For example, here you can find the magical Haymarket Clock Tower, a charming Victorian building which stands tall on the entire city center and can take your breath away with its incredible architecture. If you want to move a little bit around the city, after visiting the neighborhood, you can certainly hop on a train from the Haymarket Station and reach Waverley Station in a moment.
Things to do in Edinburgh
Edinburgh, the capital city of Scotland, is a city steeped in history and culture. There are many things to do and see in Edinburgh that will appeal to all kinds of travelers.
One of the most famous landmarks in Edinburgh is Edinburgh Castle, perched on top of a hill in the heart of the city. Visitors can explore the castle, see the Scottish Crown Jewels, and learn about the history of Scotland.
For those interested in history and architecture, the Royal Mile is a must-visit. This historic street is home to many landmarks, including St Giles' Cathedral and the Palace of Holyroodhouse, the official residence of the British monarch in Scotland.
Edinburgh is also known for its festivals, including the Edinburgh Fringe, the largest arts festival in the world. The city is home to many museums and galleries, including the National Museum of Scotland and the Scottish National Gallery, which showcase the country's rich history and culture. For nature lovers, a visit to Arthur's Seat, an extinct volcano in the heart of the city, offers stunning views of Edinburgh and the surrounding countryside.
Top locations in Edinburgh
What users think about us
Translated automatically
Show original
Hide original
-
It's very convenient. Right in the center of the city.
Очень всё удобно. В самом центре города.
-
Super local box with simple to use and close to transport recommends
Super local box with simple to use and close to transport recommande
Hundreds of people enthusiastically use our luggage storage service every day
Hundreds of people enthusiastically use our luggage storage service every day
3 Mln+ Suitcases carefully stored
Keeping your luggage safe is our main mission
7000+ Bag guardians worldwide
Our storage points called "Angels" are all over the world
24/7 Instant support
We are always available to answer your questions
0,00% of missing luggage
The numbers speak for themselves, with us you can feel safe!
Store your bags in a few clicks
The worldwide luggage storage network. Our Angels are bars and bistros who have been checked and approved by the Radical Storage team
Step 1
Locate
Find a luggage storage location near you
Step 2
Book
Proceed with online booking
Step 3
Store
Store your suitcases
Step 4
Enjoy
Enjoy your hands-free journey
Frequently Asked Questions