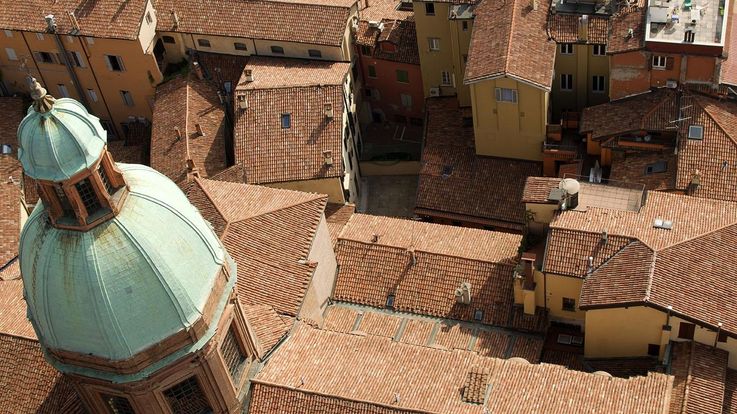 Luggage Storage Bologna
Find your luggage storage
Luggage storage in Bologna With Radical Storage
As you step off the train at Bologna Centrale Station, you're greeted by the stunning colors of the city. However, before you start exploring, you may need to find a place to store your backpacks and suitcases in a safe space, so you can roam through Bologna, eat delicious pasta and simply discover like everyone is saying, why is Bologna worth visiting.
Thankfully, you can opt for one of Radical Storage's luggage storage options, conveniently located near the station. For a fixed rate of just 5€, regardless of the size or weight of your luggage, you can book a storage spot directly on the website or app. With your belongings in safe hands, you can enjoy all that lively Bologna has to offer. Here are some of the best locations where you can find our Radical partners and secure luggage storage in Bologna:
Where do I book a luggage storage in Bologna? Try Radical Storage!
Finally the trip that you have planned is finally here and, after a short train ride, you finally have arrived in the splendid city of Bologna. You want to start your trip as soon as you can, because there are so many things to visit and explore in this wonderful area, but your suitcases are getting in the way and slowing you down, and you don't know what to do. Of course, the only solution is to find a place where to store your luggage safely for a while, so that you can easily enjoy your trip.
Luckily, Radical Storage can come in handy and help you, since we can offer you with many luggage storage solutions in Bologna and everywhere in the world, so that you can have a safe space where you can leave your belongings, while you have fun in the city, and not have any worry in the world. If you visit our website or you download our super user-friendly app, you could see the the great amount of information and options available that we can offer.
On the website, you will be able to check out one of our incredible interactive maps, where you can search your current location or the position that you prefer and, in just a few clicks, there will be a list of luggage storage in the city, more precisely close to your preferred location. In a moment, you can choose the one that you'd like to book and, after adding all the recurring needed information, you can already book your reservation for your belongings.
Why do I store my luggage in Bologna with Radical Storage?
If you have been wondering why you should book a reservation with Radical Storage for storing all your luggage in a secure place, here it is a list of benefits and important perks that you might get, if you get your service with us.
Flexible timing: One of the perks of our service is the presence of a flexible time schedule, which allows us to accommodate all of your needs, when you have to check-in or out at a certain time.

Accessibility: There are too many options for luggage storage thanks to our extensive network of local partners, so you can always find one of them in your area without any issue.

Security Coverage: You won't ever have to worry about the safety of your luggage with us, since there will be a security guarantee that will assure your luggage for more than 3000 euros per piece of luggage.

Affordability: Our service offers a very convenient and competitive fixed price, so you won't have to spend countless amounts of money for your luggage, no matter the size or the weight of your suitcases.

Easy Check-ins: There will be no time to waste on your trip for the check-in of your luggage, so we have decided to provide you with a seamless experience that will take you up to 5 minutes of time.
What should I do after checking out a luggage storage with Radical Storage
After finally booking one of our luggage storage facilities, there might be a few steps that you might be aware of, in order to have a seamless experience.
First of all, add more luggage to your booking if you need to, so everything will be in check.
After that, you will receive your confirmation email with all the details, so get acquainted with the area of your luggage storage, to get a feel of it.
Get accustomed to the other details of your luggage storage, such as the opening hours of the venue and other stuff.
Once you have reached the place, be prepared to show your email and your QR code, so that they can scan it and provide you with a seamless experience.
If you need any other information or you have specific questions, feel free to contact our customer service team or the staff at the luggage storage, so you can be sure of anything.
From Bologna Centrale to Bologna Airport:
Bologna Centrale Train Station is a well-connected hub that can lead you not only by city bus in every district of the city but also to towns near Bologna, Italy, by train and many other international cities, also by train and airplane, from Bologna Airport. Getting to and from Bologna Airport and Bologna Centrale Train Station is easy and stress-free. You can choose from numerous methods, including taking a normal city bus or the specialized Aerobus service, which runs every 20 minutes and costs 6€.
The journey takes less than 10 minutes, so you can arrive at your destination quickly and efficiently. Whether you're arriving at or departing from Bologna Airport, there are plenty of options available to make your travel experience as smooth as possible. However, there is a small problem: unfortunately, neither the Bologna Centrale train station nor the Bologna Airport provides special luggage lockers that might help you with storing your luggage safely.
But there is one solution that might help you in this case: in fact, you can take advantage of the many Radical Storage luggage lockers and storage options available close to the Bologna Centrale Train Station or other stations, such as Bologna Rimesse.
Bologna Airport
The Airport of Bologna, officially known as the Bologna Guglielmo Marconi Airport, is located in the Emilia-Romagna region of northern Italy. It is one of the busiest airports in the country, serving as a gateway to the region's vibrant art, culture, and culinary scene. The airport is situated about 6 kilometers northwest of Bologna city center, making it easily accessible for both international and domestic travelers.
The Bologna Airport boasts modern and efficient facilities, ensuring a smooth travel experience for its passengers. It has one main terminal building, which houses a range of amenities and services. Travelers can find a variety of shops, including duty-free outlets, as well as cafes, restaurants, and bars offering a selection of local and international cuisine. There are also car rental services and ATMs available within the terminal.
The airport has excellent transportation links, making it convenient to reach various destinations within the region. Bologna city center can be reached by taxi, bus, or the Aerobus shuttle service, which operates between the airport and the city at regular intervals. Additionally, a train station is located adjacent to the airport, enabling easy connections to other major Italian cities such as Florence, Rome, and Milan.
With its strategic location, the Bologna Airport serves as a hub for several major airlines, offering a wide range of domestic, European, and international flights. Popular destinations connected to the airport include London, Munich, Barcelona, Istanbul, and Paris.
Overall, the Bologna Airport provides a seamless travel experience with its modern facilities, convenient transportation links, and connection to major destinations. It serves as an important gateway for travelers looking to explore the rich cultural heritage and culinary delights of Bologna and the surrounding Emilia-Romagna region.
Things to do in Bologna
Bologna is a charming city located in the Emilia-Romagna region of Italy. The city is renowned for its rich history, vibrant culture, and delicious cuisine. Here are five things you can do in Bologna to make your visit truly memorable:
Visit the Piazza Maggiore: The Piazza Maggiore is the heart of Bologna and a must-see attraction for visitors. This stunning square is surrounded by magnificent buildings such as the Basilica di San Petronio and Palazzo dei Banchi. You can take a stroll through the square or relax in one of the cafes and watch the world go by.

Climb the Asinelli Tower: The Asinelli Tower is the tallest leaning tower in Bologna and offers breathtaking views of the city. The climb to the top of the tower is a little steep, but the stunning views are well worth the effort.

Explore the University of Bologna: The University of Bologna is the oldest university in the world and has a rich history dating back to the 11th century. You can explore the beautiful campus and visit the museums and libraries to learn more about the university's fascinating history.

Discover the local cuisine: Bologna is famous for its cuisine, and you cannot leave without trying some of the local dishes. Make sure to sample the tagliatelle al ragù, tortellini in brodo, and mortadella. You can also take a cooking class to learn how to make these delicious dishes yourself.

Visit the Archiginnasio Palace: The Archiginnasio Palace is a magnificent building that was once the home of the University of Bologna. The building is now a museum and library that showcases the city's cultural heritage. You can explore the beautiful rooms and admire the stunning artwork and architecture.
What users think about us
Translated automatically
Show original
Hide original
-
It's very convenient. Right in the center of the city.
Очень всё удобно. В самом центре города.
-
Super local box with simple to use and close to transport recommends
Super local box with simple to use and close to transport recommande
Hundreds of people enthusiastically use our luggage storage service every day
Hundreds of people enthusiastically use our luggage storage service every day
3 Mln+ Suitcases carefully stored
Keeping your luggage safe is our main mission
7000+ Bag guardians worldwide
Our storage points called "Angels" are all over the world
24/7 Instant support
We are always available to answer your questions
0,00% of missing luggage
The numbers speak for themselves, with us you can feel safe!
Store your bags in a few clicks
The worldwide luggage storage network. Our Angels are bars and bistros who have been checked and approved by the Radical Storage team
Step 1
Locate
Find a luggage storage location near you
Step 2
Book
Proceed with online booking
Step 3
Store
Store your suitcases
Step 4
Enjoy
Enjoy your hands-free journey
Frequently Asked Questions